iHeartRadio announces tenth edition lineup featuring BTS, Usher, Coldplay, Miley Cyrus, and more
by: Farrell Sweeney
Jul 22, 2020
Despite the ongoing pandemic, iHeartRadio is moving forward with the iHeartRadio Music Festival this fall. The festival will be recorded live and broadcast from venues in both Los Angeles and Nashville. Ryan Seacrest will host the event, and will treat viewers to behind-the-scenes looks at how the COVID-19 pandemic has impacted the music industry and its artists.
The lineup for the festival's tenth installment has been announced, and the diverse collection of acts slated to perform is proof that there will be someone for everyone this year. Artists include K-Pop heavyweights BTS, Coldplay, Kane Brown with special guest, Khalid, Keith Urban, Migos, Miley Cyrus, Thomas Rhett, Usher, and more. Coldplay is currently the only group to have played iHeartRadio's inaugural festival in 2011 and subsequently appear on the event's tenth anniversary lineup.
During a time where it is harder than ever to enjoy live music, iHeartRadio Music Festival will pay tribute to the connection between fans and artists through a series of activations. Music fans will have the opportunity to introduce artists and enjoy virtual meet and greets. Fans watching live will also have the chance to appear in a special fan video wall and be serenaded by their favorite artists. The 2020 iHeartRadio Music Festival will air September 27 – 28 from 8:00 p.m. to 10:00 p.m. EST on The CW and iHeartRadio stations nationwide.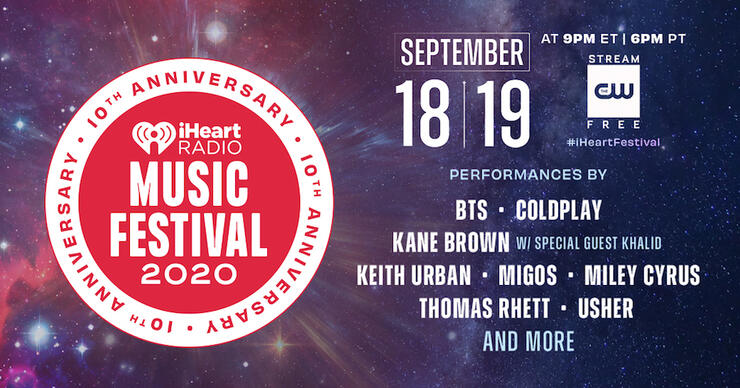 Featured image: Brian Friedman for iHeartRadio
You may also like...